Fire Boat 2
Fire Boat 2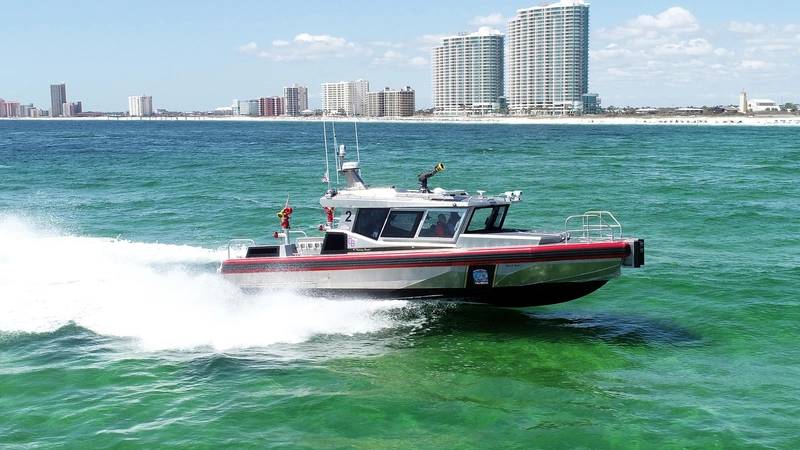 A "NEXT-GENERATION" FIREBOAT
Fire Boat 2, delivered to Orange Beach Fire Rescue in Alabama this summer, is the fi rst 38 Defi ant NXT next-generation welded-aluminum monohull pilothouse vessel, a new model based on Metal Shark's popular 38 Defi ant platform. Utilizing the same proven hullform as the more than 100 legacy model 38 Defi ant vessels already in operation, the new 38 Defi ant NXT has an entirely new topsides arrangement designed by Metal Shark's in-house engineering team.
"Redesigning one of our best-selling models at the peak of its popularity was not a task we approached lightly, but through our efforts we made signifi cant improvements to an already outstanding platform," said Metal Shark CEO Chris Allard. "Orange Beach Fire Rescue's new 38 Defi ant NXT fi reboat and the multiple other fi reboats now in production are a direct result of our goal to consistently offer the industry's most advanced designs through ongoing product evolution."
Orange Beach Fire Rescue's new 38 Defi ant NXT is powered by twin 550-HP Cummins QSB 6.7 inboard diesels mated to Hamilton HTX30 waterjets with Blue Arrow control system via Twin Disc MG 5065 SC transmissions. This confi guration enables this fully-equipped 43- by 12- foot fi reboat to cruise at 30 knots and reach top speeds in excess of 40 knots while offering superb maneuverability at all speeds. The 38 Defi ant NXT is available with a wide range of propulsion types and can reach top speeds of more than 50 knots when powered by triple outboards
For fi refi ghting, the Orange Beach fi reboat delivers a fl ow rate of 3,000 GPM, with twin 1,500 GPM Darley fi re pumps driven via PTO from the main engines. Each pump draws from its own dedicated in-hull sea chest, feeding a central manifold with crossover capability, which in turn supplies the entire system. From the fi re control station at the port helm, fl ow is directed as desired via electronicallyactuated valves. The vessel is equipped with a remote-operated Elkhart Scorpion EXM electric rooftop monitor, two Elkhart Copperhead manually operated monitors aft, dual handline outlets, and a 5-inch Storz connection.