Susquehanna
Susquehanna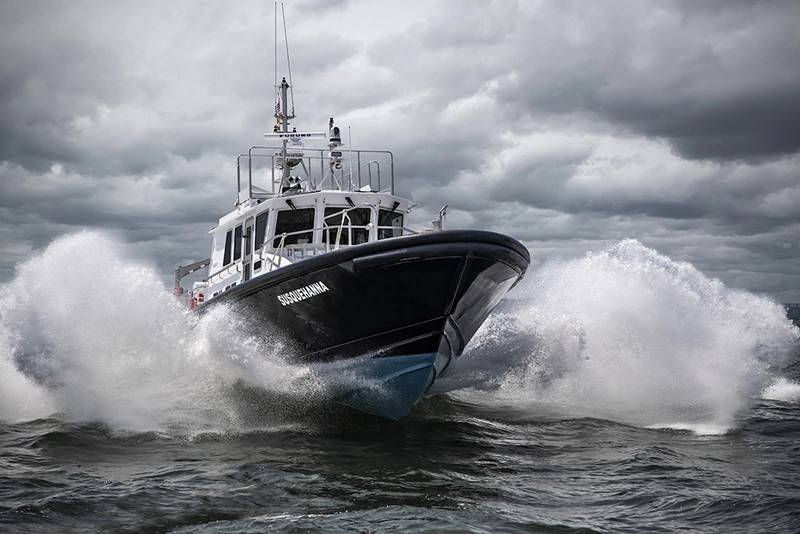 THE LATEST AND GREATEST FROM A PILOT BOAT CLASS THAT'S TRIED AND TRUE
A winning recipe from Gladding-Hearn Shipbuilding, Duclos Corporation, has made the Chesapeake class one of America's most popular pilot boats.
Since the series was introduced by the Somerset, Mass., shipyard in 2002, more than 20 have been delivered to 12 pilot associations throughout the United States, including the Susquehanna recently handed over to the Association of Maryland Pilots. In fact, Susquehanna is the fourth Chesapeake launch delivered to the Maryland Pilots, who were one of the original adopters of the design when it took delivery of Patapsco in 2002. That fi rst vessel, by the way, is still in service and running strong.
Susquehanna is the latest and greatest of the tried and true Chespeake class, which has evolved thanks to a large number of small incremental tweaks and changes through the years, said Peter Duclos, Gladding-Hearn president and business development director. "The Chespeake class is current and valid today because we've continued to make better. A lot of things are similar, but it's not the same boat that it was in 2002," Duclus explained. "The result of all these changes is that the boat is faster yet burns less fuels, and it's heavier, more comfortable and capable."
With a deep-V hull designed by Ray Hunt Design, the new all-aluminum Susquehanna measures 52.6 feet overall, with a 16.8-foot beam and a 4.8-foot draft. Powered by twin Volvo Penta D16, EPA Tier 3-certifi ed diesel engines, each producing 641 Bhp at 1,800 rpm, the vessel's top speed is over 26 knots. The engines turn fi ve-blade Bruntons NiBrAl propellers via ZF500-1-A gear boxes. A Humphree interceptor trim control system, with its Automatic Trim Optimization, is installed at the transom. The launch is equipped with a 12kW Northern Lights genset and 100% LED lighting.
The vessel's wheelhouse, with a small trunk, is installed amidships on a fl ush deck. With electrically heated forwardleaning front windows, the wheelhouse is equipped with fi ve NorSap shock-mitigating reclining seats, a baggage rack and control console. The forecastle includes a PortaPotty, split upholstered settee/bunk, lockers for tools and safety gear safety gear and a custom immersion suit rack. The vessel's interior is heated and cooled by two 16,000 Btu reverse-cycle HVAC units, in addition to a 2,000-watt 240 VAC heater in the wheelhouse and in the forecastle.
Outside the wheelhouse are heated side-decks and handrails to prevent ice accumulation. An aft ladder leads to hinged boarding platforms on the roof. A control station is at the transom, along with a hydraulically powered JBasket rescue system, for pilot rescue operations.