Sea Change
Sea Change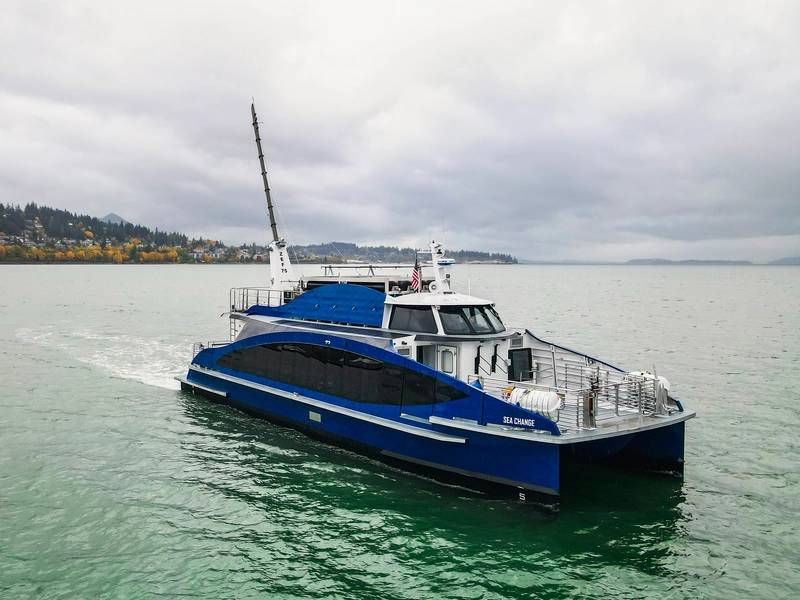 AMERICA'S FIRST HYDROGEN POWERED FERRY
SWITCH Maritime's new 70-foot passenger ferry Sea Change is navigating uncharted waters as the United States' fi rst zero-emissions, hydrogen fuel cell-powered, electric-drive ferry
The pioneering aluminum newbuild, constructed by Bellingham, Wash. shipbuilder All American Marine, Inc. (AAM), has been completed and was launched this summer, though permitting of hydrogen fuel systems for maritime vessels is still being worked out with the U.S. Coast Guard.
"Legislation and laws for passenger safety did not exist yet for this type of vessel. So, working hand in hand with the Coast Guard to create a set of rules to streamline this in the future was a necessary challenge to promote the adoption of any new technology," said AAM president and COO, Ron Wille.
The project is funded by private capital from SWITCH, an impact investment platform aiming to build a fl eet of exclusively zero-carbon maritime vessels. "By working closely with the U.S. Coast Guard, with innovative technology partners, and with best-in-class shipyards such as All American Marine, we can make the transition to decarbonized shipping a reality today," said Pace Ralli, cofounder and CEO of SWITCH. "We don't have to wait."
The fi rst-of-its-kind Sea Change is equipped with a hydrogen fuel cell power package provided by Zero Emissions Industries (formerly Golden Gate Zero Emission Marine), comprised of 360 kW of Cummins fuel cells and Hexagon hydrogen storage tanks with a capacity of 246 kg. This system is integrated with 100 kWh of lithium-ion battery provided by XALT and a 2x 300 kW electric propulsion system provided by BAE Systems. The vessel design originates from Incat Crowther, and the construction supervision and management is led by Hornblower Group.
The USCG Subchapter T vessel has capacity for 78 passengers and can be operated by a crew of two. The vessel includes ramps to the bow and side loading gates to provide
AAM's Wille said he believes hydrogen fuel cell technology will leapfrog traditional diesel and hybrid-electric propulsion methods as the most benefi cial for maritime applications. "There are a number of reasons why we see this pivot, but the main reason is basically it's both transportable and has very high energy density. Hydrogen has more power and weighs signifi cantly less than other forms of energy. Li-on batteries are roughly 50 times as heavy as diesel fuel. This makes it very diffi cult to go either far (or fast) in a boat running on batteries.
"On a pound for pound basis, hydrogen has nearly three times the energy of diesel fuel and can also be used more effi ciently in fuel cells than diesel in internal combustion engines.
"Simply put, hydrogen can be compressed into a much smaller space and weighs far less than both its battery or diesel equivalent. Therefore, in the same amount of space taken up by a battery bank or diesel tank, you can have much more hydrogen and travel much further.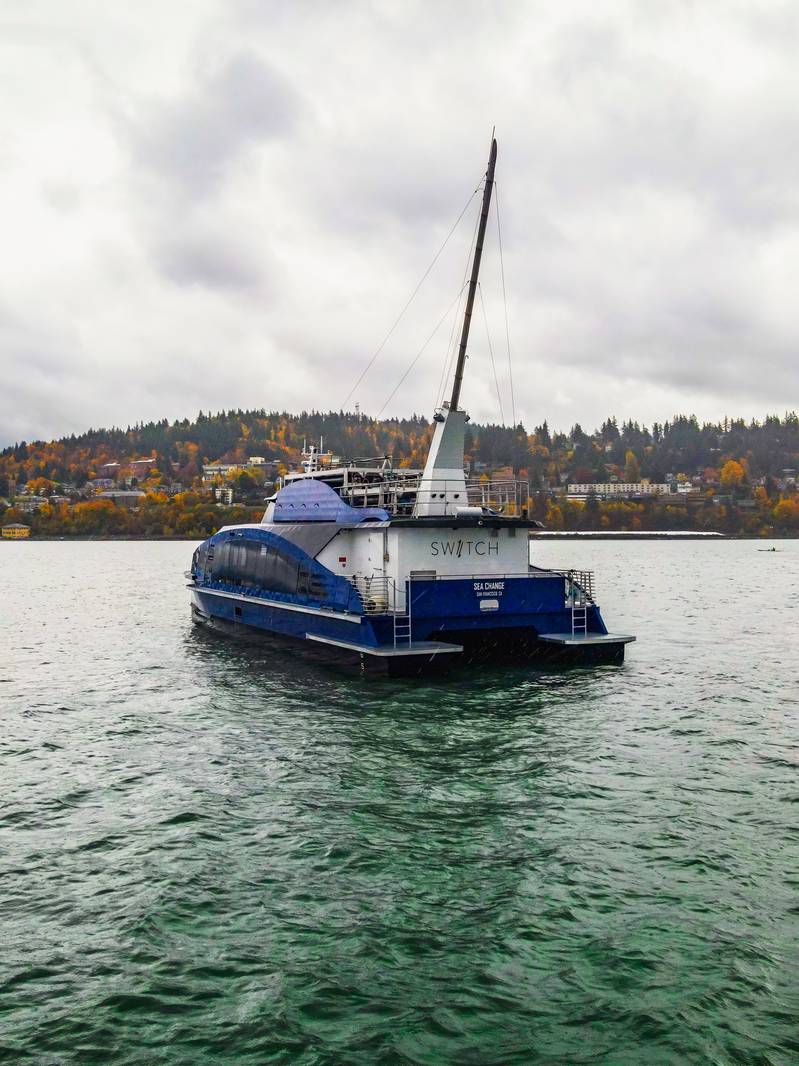 "It's also modular and scalable, with a number of fuel cells generating energy, if one happens to go offl ine, it can easily be swapped while the others continue to do the work. It doesn't result in the need for an entire engine replacement. It's much simpler and all made up of components and systems that have been used before and are proven in the transportation sector."
Wille noted that passenger vessels are "an ideal starting point" for the maritime industry's adoption of zero-emissions technologies. "The short routes, consistent schedules, relatively low energy requirements made ferries an ideal candidate," he said. "[Sea Change] provides a unique quiet passenger experience, no diesel engine noise or fumes.
"It's a beautifully built, modern looking passenger ferry to go alongside it being the fi rst of its kind in the world fully run on hydrogen fuel cell technology. Complete with reusable bottle fi lling stations, top of the line seating, bike racks, and a state-of-the-art pilot house, the hydrogen fuel cell propulsion system is really what stands out. And the fact that this system is modular and scalable, is really exciting."
But Wille believes Sea Change and its groundbreaking zero-emissions power systems are just the tip of the iceberg. "This vessel is the fi rst step towards decarbonizing the maritime industry. This technology will have a global impact. This isn't just about a ferry. This is about a viable future for the maritime industry. It's about not only the potential for cargo ships, it's also about an increased awareness in public transport, daily work commutes and ultimately, the passenger experience. This technology will directly affect future passenger ferries and water taxis, and your commute to work in the future by providing a quieter and sustainable commute."
This project has received municipal support including a $3 million grant from the California Air Resources Board (CARB), administered by the Bay Area Air Quality Management District (BAAQMD), that comes from California Climate Investments, a California statewide initiative that puts billions of Cap-and-Trade dollars to work to reduce greenhouse gas emissions, strengthen the economy, and improve public health and the environment – particularly in disadvantaged communities. Additionally, the project received the fi rst ever loan guarantee under BAAQMD's Climate Tech Finance program, which seeks to reduce greenhouse gases by accelerating emerging climate technologies. In partnership with the California Infrastructure Economic Development Bank and the Northern California Financial Development Corporation (NorCal FDC), the Climate Tech Finance team led a technology qualifi cation and greenhouse gas analysis that deemed SWITCH eligible for a loan guarantee. This loan guarantee supported SWITCH in securing a $5 million construction and term loan with KeyBank, which enables SWITCH to bring the project to completion.