SSG Michael H. Ollis
SSG Michael H. Ollis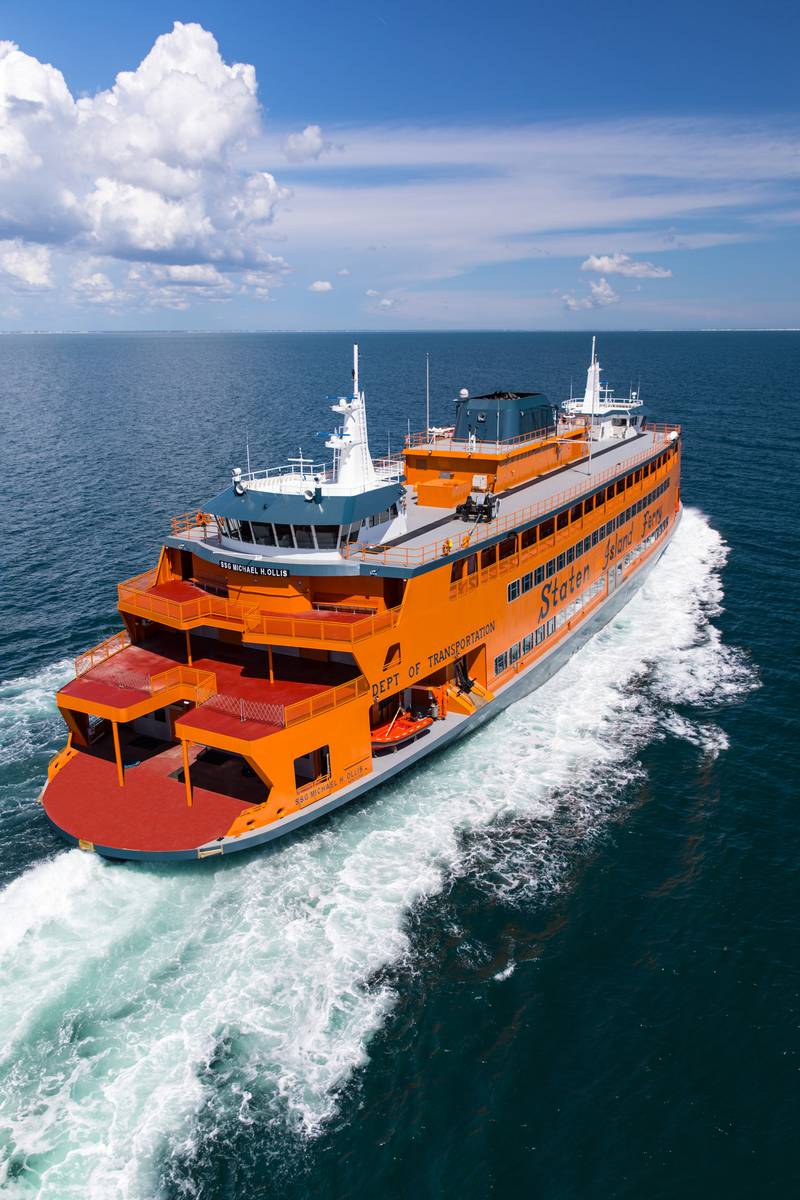 FIRST IN A NEW CLASS FOR A NEW YORK CITY ICON
There's a lot to like about the newest vessel commissioned by the New York City Department of Transportation's (NYCDOT) iconic Staten Island Ferry. The state-ofthe art 320-foot, 4,500-passenger SSG Michael H. Ollis commissioned in October sports the classic design features of the instantly recognizable the Staten Island Ferry fl eet, but it's updated throughout for improved comfort, safety and effi ciency
Named in honor of U.S. Army Staff Sgt. Michael H. Ollis, a Staten Island native who was killed shielding fellow soldiers from a suicide bomber in Afghanistan in 2013, the newbuild is the fi rst in a series of three Ollis class ferries designed by Elliott Bay Design Group (EBDG) and built by Eastern Shipbuilding Group for Staten Island Ferry. "The Staten Island Ferry is an iconic transportation vessel recognized around the globe. For [the new ferry class] to honor one of our fallen heroes makes it even more special," said Joey D'Isernia, President of Eastern Shipbuilding Group.
According to Eastern, the new ferries are larger, refl ect modern technology and will operate more safely in extreme weather conditions. They feature new customer-service amenities such as more comfortable seating and phone-charging outlets and an oval upper-deck promenade that will for the fi rst time serve as an outdoor walking track for riders.
John Waterhouse, chief concept engineer at EBDG, said a key priority when designing the Ollis class was to ensure the new ferries interface seamlessly with existing terminals to ensure that the service maintains its "brisk schedule". In addition, the new ferries were designed with a number of "resiliency features" in mind, as in the wake of 9/11 and Superstorm Sandy the vessels would be used, if necessary, to help evacuate New York City. According to Waterhouse, part of this resiliency is the Voith Schneider propulsion units, which allow "a great deal of maneuverability and control of the vessel when coming into places that might not be its normal dock." The new vessels also feature side doors so that they can load passengers alongside instead of solely through the ends of the ferry
Each ferry features four ABS Electro-Motive Diesel (EMD) L12ME23B at 750 rpm EPA Tier 4 marine propulsion engines with two engines powering one ABS Reintjes DUP 3000 P combining gear and one ABS 36 RV6 ECS/285-2 Voith Schneider Propeller at each end of the vessel. Power generation is provided by three ABS, EPA Tier 3 marine continuous duty diesel generator sets, Caterpillar C18 driving 480 V, 60 Hz, 3-phase generators rated at 425 kW at 0.8 P.F. at 1,800 rpm.