Gretchen V. Cooper
Gretchen V. Cooper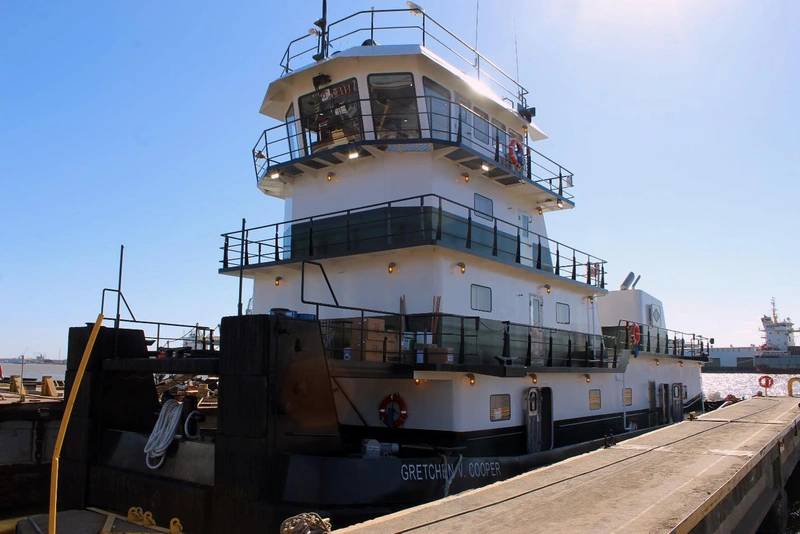 NEW TOWBOAT IS CLEAN AND GREEN
The U.S.' fi rst linehaul towing vessel powered by Tier 4 Caterpillar high-speed engines with selective catalytic reduction (SCR) was built by Blakeley BoatWorks (BBW) and is now operated by Cooper Marine and Timberlands (CMT).
In March 2021, Blakeley BoatWorks completed construction of Gretchen V. Cooper, a state-of-the-art, Tier-4 inland linehaul tow boat. This 3,400-horsepower vessel is 110-feet long, 33-feet wide and expands CMT's fl eet to 20 vessels.
The vessel is powered by two Caterpillar C3512E 3,400 HP Tier IV diesel marine engines operating at 1,800 RPM and coupled to Twin Disc MGX5600 gears. The engines signifi cantly reduce emissions of particulate matter, or black soot and nitrogen oxide, while also saving fuel. Thompson Caterpillar also supplied electrical power with two Caterpillar C4.4 Tier III generators with RW Fernstrum, Inc. keel coolers throughout. A pair of Southeastern Propeller four-blade stainless steel propellers provide thrust through two J & S Machine Works, Inc. 9-inch ABS Grade two propeller shafts with Cutlass shaft bearings, Thordon rudder bearings, and Kemel shaft seals. Gulf Coast Air and Hydraulics supplied the steering system for the two 9-inch main and four 8-inch fl anking rudders.
"Our customers expect Blakeley BoatWorks and Cooper Marine & Timberlands to drive industry innovation, and our building and operating one of the industry's most environmentally friendly towboats marks our unwavering commitment to always exceed their expectations," said Angus R. Cooper III, President, Cooper/T. Smith, parent company to both BBW and CMT, headquartered in the port of Mobile, Ala. "Naming a boat after my wife Gretchen meant that we couldn't just settle for building a standard towboat, and therefore the Gretchen V. Cooper will be one of the most powerful towing vessels operating on the TennesseeTombigbee Waterway and will lead the way for a new industry standard for reduced emissions on towboats."