SAFE 44 Patrol Boat
SAFE 44 Patrol Boat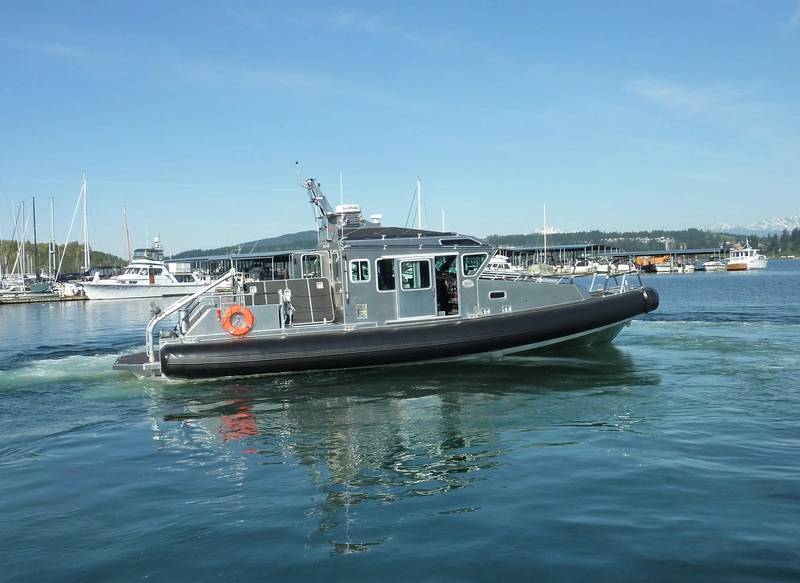 A VERSATILE PATROL BOAT
The SAFE 44 Full Cabin – Inboard designed and built by Bremerton, Wash.-based SAFE Boats International for the U.S. Department of Defense serves as a command and control platform and performs a variety of military and scientifi c support missions domestically and around the world.
The ample cabin confi guration with four shock-mitigating seats allows for freedom of movement and a comfortable and safe ride in rough seas. The installed Seakeeper enhances vessel stability and reduces crew fatigue. The onboard galley and head provide crew habitability during extended time away from port. The SAFE 44 Full Cabin – Inboard is just as at home in protected, inland waters as it is in rougher, offshore seas. The sturdy hull, extreme duty reinforced (XDR) collar and other standard safety features offer peace of mind unapparelled in the industry.
The SAFE 44 Full Cabin – Inboard is powered by dual Cummins QSM11 inboard diesels, with ZF 325-1 gears and drivelines as well as twin Hamilton HTX30 waterjets with 24VDC electronic controls. It is also equipped with a Westerbeke 7.6 kW diesel generator
It is equipped with a Seakeeper 7HD and Zipwake Dynamic Trim Control System, plus the vessel features a wide beam design for solid performance in heavy seas. A spacious, climate-controlled cabin offers good crew comfort and safety. The Full Cabin – Inboard's design makes it well-suited for conducting a variety of missions including command and control, general patrol, and search and rescue operations in both inland, coastal, and offshore waters.