Spindletop
Spindletop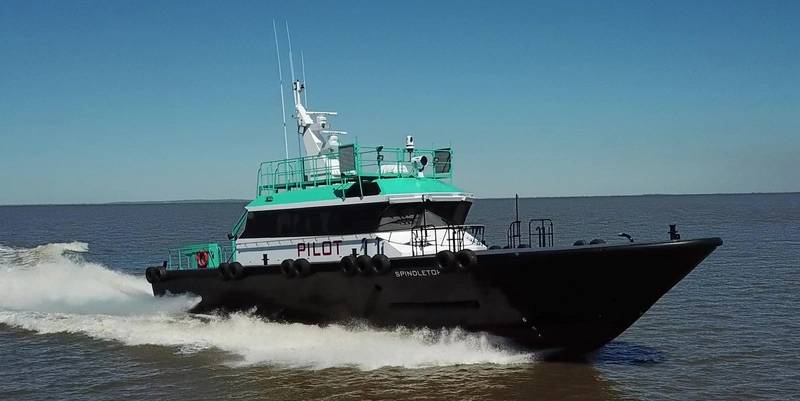 THE LARGEST PILOT BOAT IN THE U.S.
With a long, dark deep-V hull and its aquamarine coloring up top, Sabine Pilots' newest launch Spindletop delivered in mid-March is defi nitely a head-turner. But perhaps most attention grabbing is the vessel's dimensions: 90 feet long and 23 feet wide.
"Spindletop is the largest all-aluminum pilot vessel built in the U.S.," said Roy J. Breaux, Jr., president of Breaux's Bay Craft, the Loreauville, La. shipyard that built the groundbreaking vessel. "When Sabine Pilots came to Breaux's Bay Craft to have this vessel built, they requested a Gulf of Mexico Bottom with a plush and comfortable interior, fuel effi ciency and stability in bad weather conditions."
The launch was designed by Breaux's Bay Craft in partnership Madisonville, La. naval architecture fi rm C.FLY Marine Services. "The overall size of the vessel gives the pilots more comfort with the capabilities of seating 14 pilots, one navigator and captain in Hy Back NorSap reclining seats and sleeping accommodations for four with full galley," Breaux said. The vessel features a three-ton water cooled air conditioning system for the pilothouse and another two-ton water cooled AC system for the lower accommodation, which includes two double bunk staterooms, settee seating area and a full head with shower.
"The vessel's speed, fuel effi ciency and stability also make it unique," Breaux said, noting Spindletop the fi rst quad screw jet propulsion pilot vessel built in the U.S." Powered by four Scania DI16-82M engines (800 HP at 2,100 RPM) with Twin Disc MGX 5146 gears, Centek Water lift muffl ers and quad Hamilton HM461 waterjets, Spindletop cruises ay 27 knots with a top speed over 30. Its Ecospeed underwater hull coating offers improved hydrodynamic characteristics that help to enhance performance and save fuel.
Breaux's Bay Craft has been building pilot boats since the early 1970s, but Spindletop is just its second with its new generation deep-V bottom. Having run for more than 38,500 nautical miles (as of October 20), Breaux said Spindletop's performance has been exceptional. "The vessel has been in service in adverse weather conditions, including 8- to 10-foot seas, and has exceeded and outperformed all expectations," Breaux said
"We went to Breaux for a custom-built pilot boat that would maximize safety and comfort for our 17 mile stretch in the Gulf of Mexico, and could not be happier with our choice," said Capt. Kenneth Leslee Hurd, boat superintendent for Sabine Pilots. "The Spindletop with its four Hamilton jets coupled to the 4,800 HP Scania engines, Humpree active ride trim tabs, and Breaux's new hull design she cuts thru our constant 3- to 4-foot chop that we run on a daily basis with ease. Another great feature from Hamilton is their new AVX (boat mouse) system that allows the operator to maneuver the vessel with ease in restricted areas."
Hurd said operator visibility during pilot transfers was a main priority when designing the new launch, adding that Spindletop's heated fritted glass windows allow the operator 360 degrees of unobstructed views at all times.
For pilot transfer operations, Spindletop has port and starboard boarding platform on both the bow and pilothouse. A combination of DB 510 D bumpers and aircraft tires surround the perimeter of vessel. For rescue assist, there's a custom-built rescue platform by SeaLift located on transom with 24V hydraulic unit, plus a transom jib pole with 120V electric winch.
Hurd expects Spindletop—Sabine Pilots' fi fth Breaux built pilot boat—will be disembarking and delivering pilots to ships safely for many years to come.